I had the pleasure of documenting Kynzie and Josh's wedding day on November 12th, 2021 at First Presbyterian Church in Little Rock, Arkansas. From the moment they met, these two had a love for each other that was undeniable. They were generous with their time and kindness to everyone around them, and it was an honor to be able to capture their special day. Let's take a look at some of my favorite photos from Kynzie & Josh's wedding day!
Engagement Session
Back in October I had the pleasure of taking Kynzie and Josh's engagement photos at the beautiful Crystal Bridges Museum of American Art. Nestled in the rolling hills of Northwest Arkansas, this museum is home to some of the best art in the country. Kynzie & Josh had talked to me about coming up to NWA for their engagement session, and I had offered up potentially doing it there, to which they were ecstatic about since Kynzie loved the idea of being photographed in an Art Museum. The natural beauty around the museum enhanced their photos and made them even more special. Taking their photos amidst the vast green landscape surrounding Crystal Bridges made the perfect backdrop for them as a couple and the light that day was especially beautiful! We captured some magical moments that I know you'll be able to see come through in their photographs.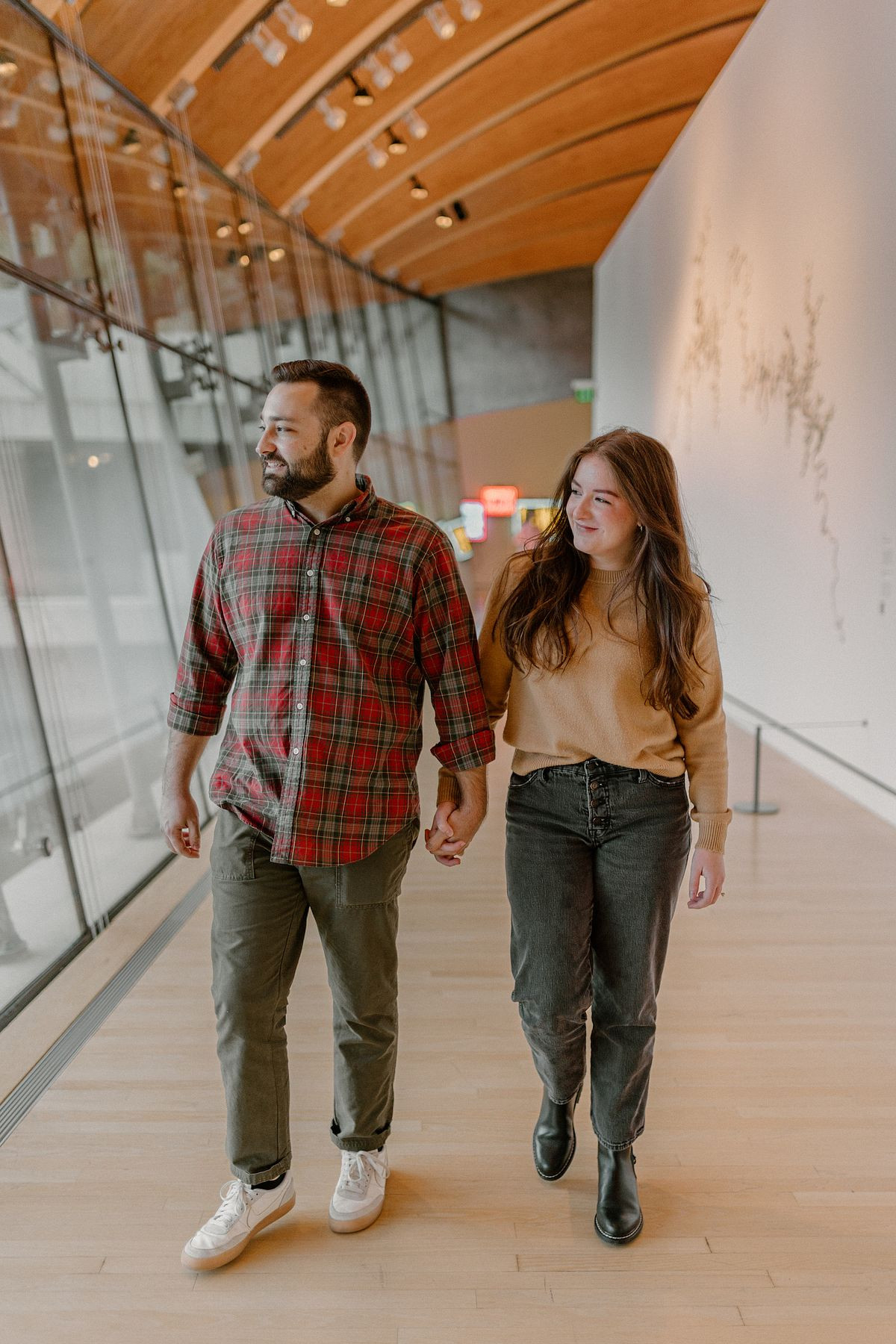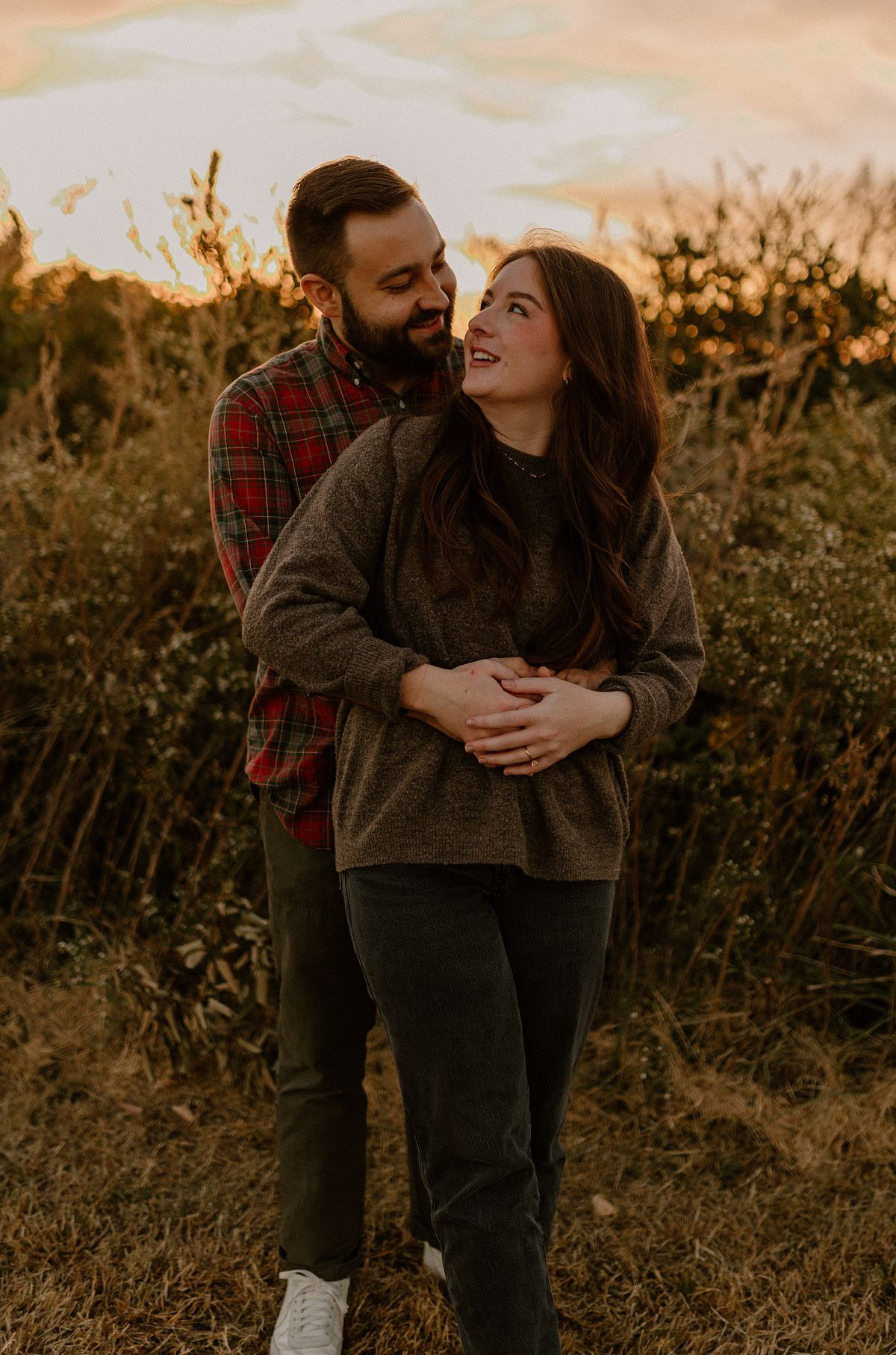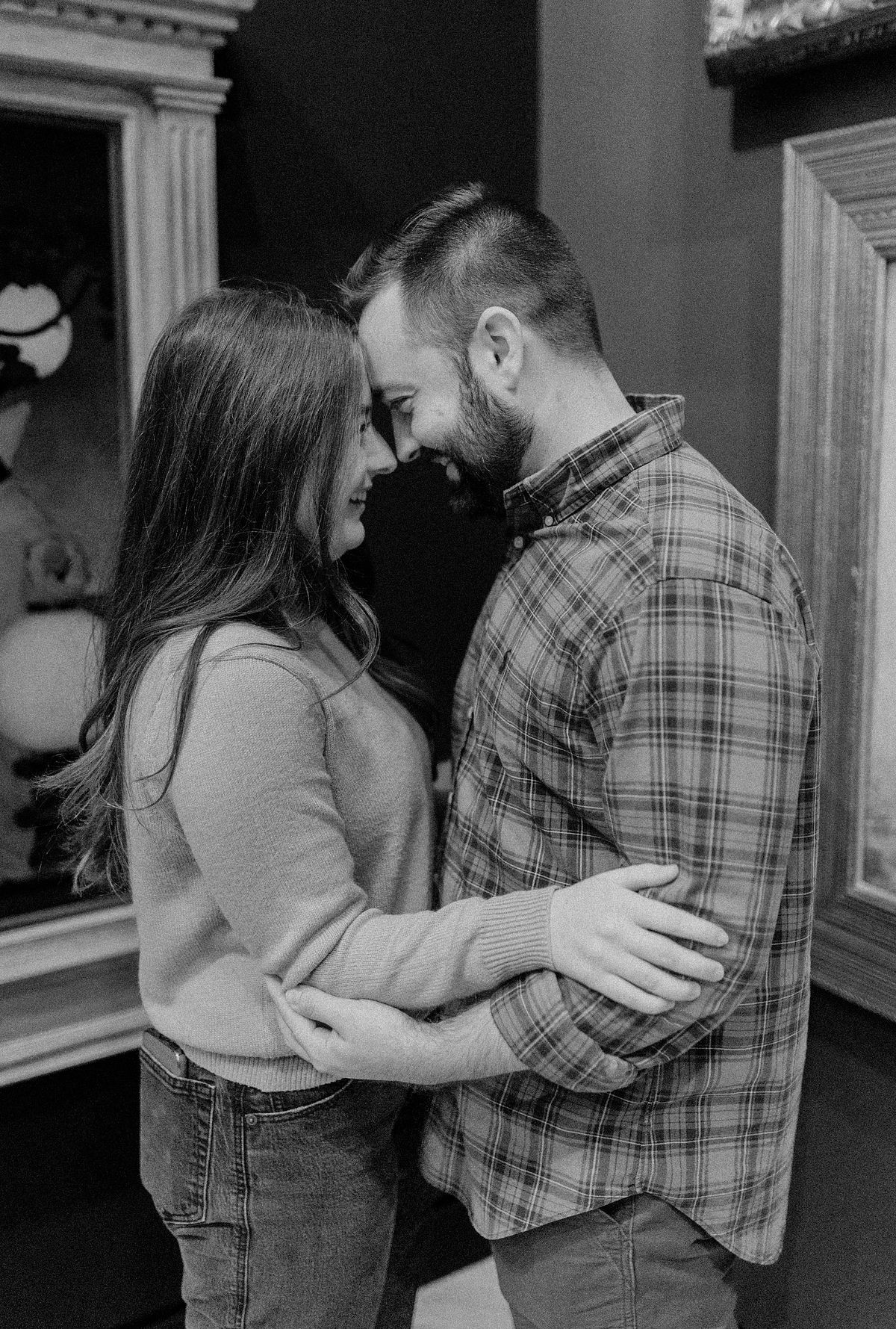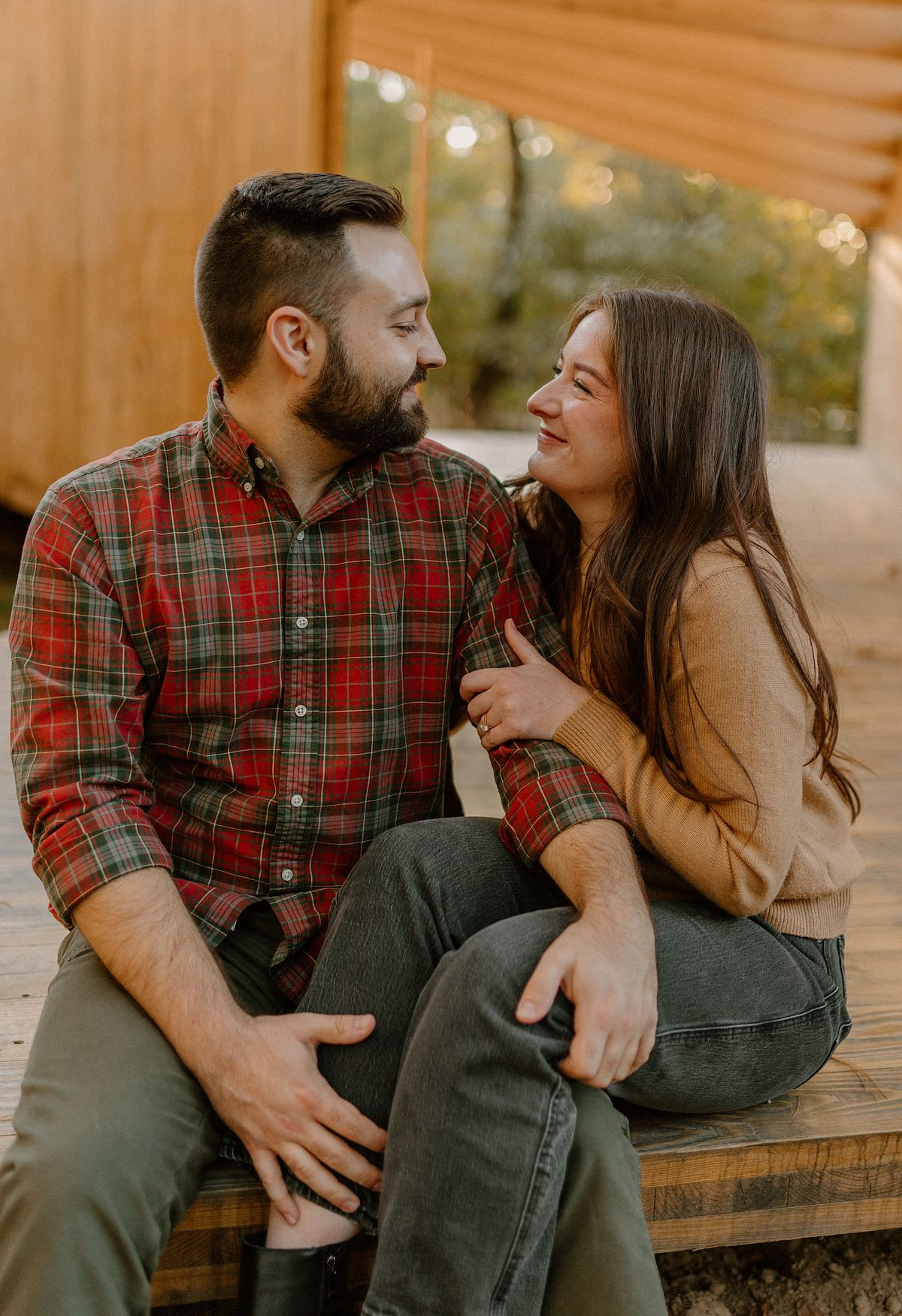 Getting Ready
The preparations for Kynzie and Josh's big day started early in the morning. The energy was palpable; there were smiles all around as they got ready to embark on this huge step together. The girls arrived to the church early in the morning, where they relaxed, enjoyed coffee and had a great time with each other. I captured beautiful images of Kynzie putting on her dress, and looking absolutely radiant in her bridal gown. Meanwhile, Josh was busy getting dressed and ready with his groomsmen. He looked dapper in his suit, sporting a smile that could light up the room. Even though these moments are often filled with nerves, you can tell that these two couldn't wait to become husband and wife!
First Looks and Pictures with Bridal Party
After getting ready, Kynzie & Josh met in an indoor courtyard to do their first looks. The emotions that swirled between the two of them were palpable. With the backdrop of lush gardens and ornately stone, they shared a look that spoke volumes, conveying love, respect, and admiration. We then ventured to the front of the church to capture couple photos alone and some with their bridal party. Everyone's energy only heightened as we took group shots together outside amongst the majestic nature of First Presbyterian and its gorgeous wooden doors. The joyous atmosphere was contagious and I couldn't have been more thrilled for these soon-to-be newlyweds!
Family Photos
After we finished the bridal party photos, Kynzie & Josh took some time to capture sweet family photos. The love between them and their families was evident and even the most stoic of guests couldn't help but smile as we took the pictures. No detail was overlooked in getting the perfect shots - from the smiles that lit up their faces when they looked at each other, to their embracing hugs with their parents and siblings. These precious moments were truly capturing a lifetime of love, and I felt blessed to be a part of it all!

Kynzie & Josh Alone
After the family session we stayed inside the church for a private moment for Kynzie & Josh. The quiet atmosphere created a tranquil backdrop for the couple's photos. Despite there being no one else in the room, their love and connection were still tangible and it was easy to see how strong their bond was. We spent some time taking photos of them alone together, with beautiful stained glass windows and ornate wood and stone as a backdrop for these intimate moments. Each photo seemed to capture just how special this relationship is, and I know that it shines through and through with their photos.

Sweet Moments Before
As the clock ticked closer and closer to Kynzie & Josh's big day, there was a peaceful stillness in the air. The warm sunlight shone through the stained glass and created a sense of comfort and excitement as everyone gathered together. In these sweet and quiet moments, you could feel the love that surrounded them, even amidst all the pre-wedding buzz. Both Kynzie & Josh were prayed for by their separate bridal party members - a sign of how much they were loved and supported by their nearest and dearest. This moment was truly special and full of love, anticipation, and joy as they prepared to start their lives together.

The Ceremony
As Kynzie & Josh stood before the altar, their hearts were filled with love and joy. The ceremony was beautiful, full of meaningful details that signified their relationship with Jesus. They took communion together to commemorate His presence in their moment, and a singer sang two worship songs to acknowledge the importance of Him in their lives. With tears in their eyes, they were pronounced husband and wife – an eternal seal of the profound bond they had formed through their faith. In that moment, nothing else mattered except for each other and their newfound union as one. It was a magical scene that will be remembered forever and serve as a reminder of how deep and powerful their love is - rooted in the foundation of God's love for them both!
The Reception & Exit
Kynzie and Josh celebrated their marriage with a reception of cake, punch, and laughter. They cut the cake to mark the start of their life together and saw many old friends that shared in their joy. The time spent with each other was filled with love, as they both simply wanted to be present in the moment surrounded by people they loved. Their exit was just as special, as they walked out onto the steps of the church with petals of flowers thrown over them in a beautiful display of complete bliss! The two were eager to start their life together as they waved goodbye to their guests - happy and content in Josh's car, ready for the journey ahead - a reminder of two hearts joined as one as they drove off into the rest of their lives.
Details
Kynzie and Josh's wedding was a beautiful celebration of their love and commitment; it was a picture perfect scene of love, romance, and joy Soft white flowers filled her bouquet and adorned the elegant, simple cake with more blooms. Her Gianni Bini shoes perfectly coordinated with the white trim of her dress and the sweet, delicate scent of Chanel perfumed the air.

Conclusion
On their special day, Kynzie and Josh celebrated their love for each other with a joy that surpassed any other. From the start of the ceremony to the end, this magical moment was filled with precious memories of the two of them. As they continue to build a life together, they are confident that the happiness they felt on their wedding day will carry them through all their days to come. I could not be happier for them. I wish them all the best as they embark on their new life adventure together. May they find strength and wisdom in each other during times of difficulty, and may they always cherish the moments of joy they share. Here's to a lifetime of love and happiness!

Look at the whole gallery below to see all the beautiful images captured on their wedding day!